Our Recreational Program currently consists of players from the age of 5 through the age of 12. Please take note that there is no skill level requirement at any age, i.e., we will have children of all levels participating on each team in our program. We have developed a system that provides both a fun and productive environment for players at all levels.
Although our focus is predominantly on the enjoyment of playing the game, we would also like to utilize our time effectively with the children by teaching them as much as possible about the game and the skills needed to excel in the sport.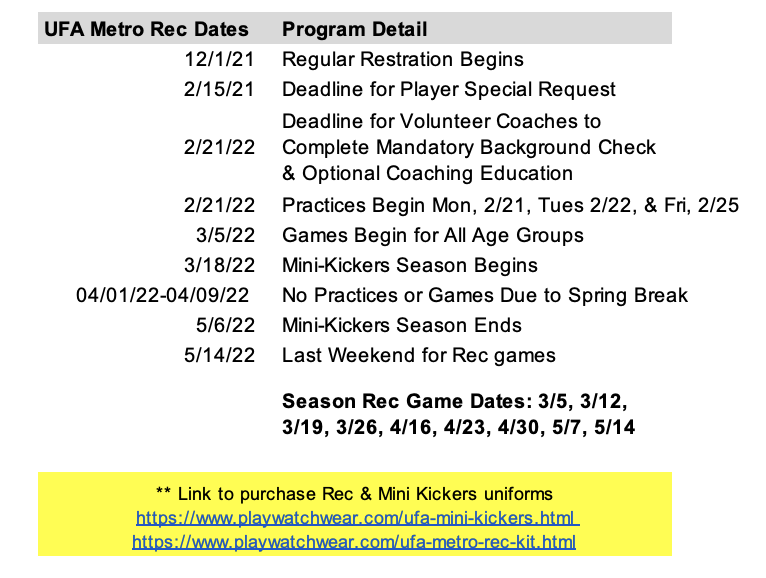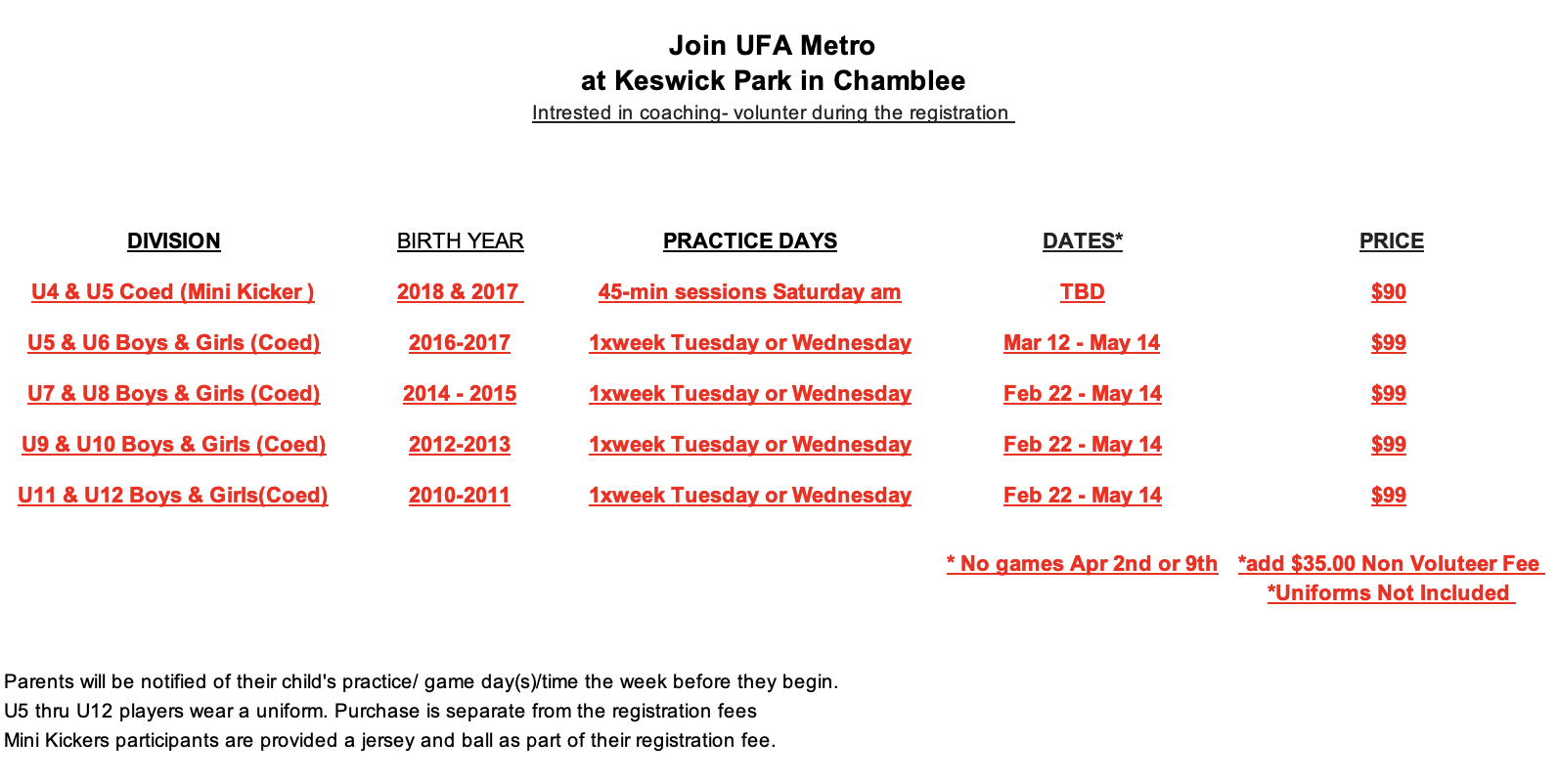 *Please note, all registration is done online. Fee for all ages is $99. Please click on REGISTRATION to begin.
For questions regarding the Recreational program, please contact ufametrorec@unitedfa.org.
Fast Track Training Program
For kids aged 5 & up, our Fast Track Training Program is for UFA Recreational players who are interested in a more serious and intense training program. If interested, please contact ufametrorec@unitedfa.org for more information, or click here to register.
A demanding training program, "Fast Track Training Program" will not only challenge its participants during sessions, but will also specifically require players to keep perfecting their skills through extra work at home. The focus will be on acquiring and mastering proper basic soccer skills, crucial for the Academy level.
Fast Track Practices are held In addition to each players' recreational team, and is a more intense training which will be held once a week by an UFA staff trainer.
1 hour per week practice on Fridays

8 week training program

Fees are $100 for all 8 weeks ($12.50 per session)
VOLUNTEERS
Throughout the season parent volunteers will be in great demand. We will need Coaches, Assistant Coaches, and Team Managers for each team. If you are interested in volunteering for any of these positions, please let us know by registering as a volunteer when you register your child.
Volunteer Registration Instructions
Create a family account or log in to your existing family account
Please click on the Volunteer tab
Click on Find Volunteer Roles
Select the program, division and role you wish to sign up for, click on Next and enter all required information
UNIFORMS
Our recreational uniforms consist of a jersey, shorts and socks. Players who participated in the Fall 2020 and/or the Spring 2021 seasons will not need to order new uniforms (unless they have grown out of them. All new players will need to purchase a uniform in the link below, this is an additional cost to your season registration:
https://www.playwatchwear.com/your-store/clubs/brookhaven-fc/ufa-metro-rec.html
For uniform questions, please reach out to metrouniforms@unitedfa.org
Please contact playwatchwatchwear for uniform ordering/shipment questions.
Equipment Needed for the season:
Players may wear either turf shoes or cleats for practices and games.
Size appropriate soccer ball:
05U - 08U = size 3
10U - 12U = size 4
Shin Guards are required at all times (all practices and games).
Refunds
United Futbol Academy has a No Refund Policy.